KWA-O1850-I
首頁

/

產品目錄

/

KWA-O1850-I(KWA-O1850-I)
產品介紹
5GHz FDD Radio System for E1/T1 Bridge
KW1850 Series
P2P

WiFD2®Outdoor Backhaul Bridge
Ultra Low Latency KWA-O1850 Series

Formosa KW1850 series of all outdoor bridge are designed for point to point application. These bridges with functions of PoE(Power over Ethernet) power supply, waterproof, dustproof and coolant can build up a low packet latency and high bandwidth connection between two buildings. Such marvelous products are so suitable to be set up outdoors. Radio in the KW1850 series support capabilities ranging from 1.6 Mbps to an industry-leading 120 Mbps of aggregate user throughput, and 100BaseT interfaces. Featuring native FDD and native Ethernet transport and full software configurability and upgradeability, the KW1850 series was designed to meet demanding backhaul requirements of enterprise organizations and service providers seeking the performance benefits of an all-outdoor configuration.

Security, Management and Data Networking. The KW1850 series deliver the highest data and management security available with 256-bit AES encryption and secure SNMP v2 management, together with enhanced fault management and diagnostic features.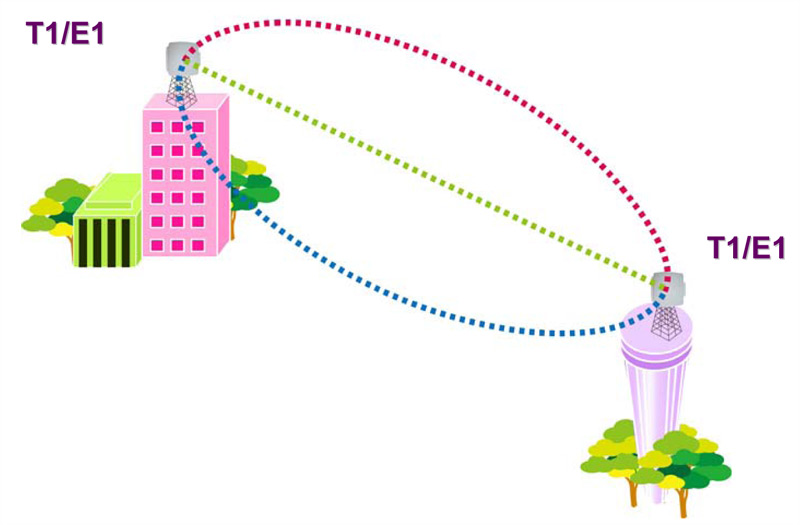 WiVIEW 2, Managed Tool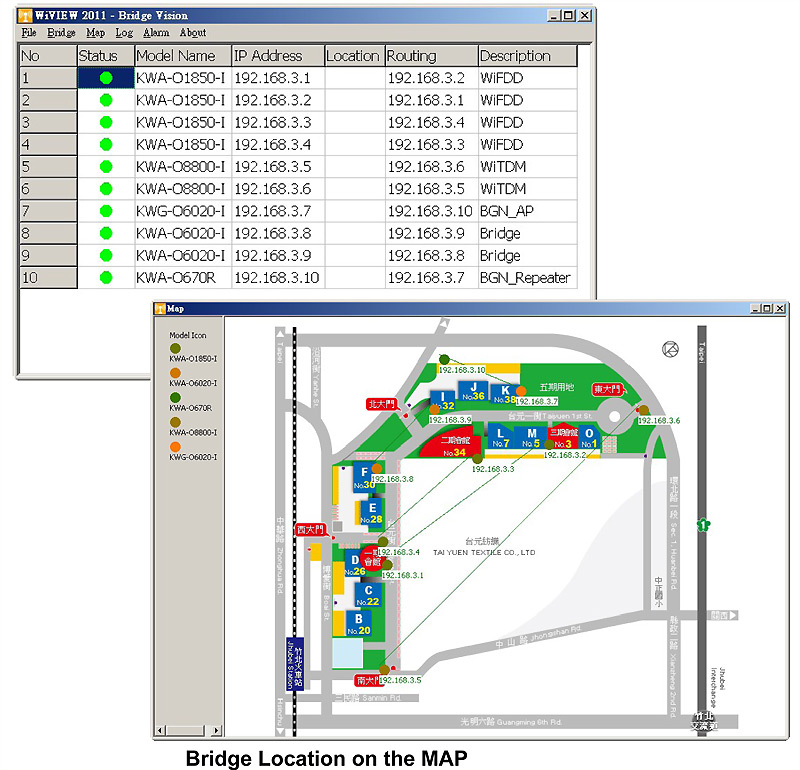 KWA-O1850 Series
Tuning Resolution
1 MHz
Output Power (full power)
+25 dBm BPSK1/2, +20dBm 64QAM3/4
Power Control Step Size
1 dB
Receiver Threshold (BER=10-6)
20 MHz
40 MHz
64QAM 3/4
-70
-68
64QAM 1/2
-75
-73
16QAM 3/4
-78
-76
16QAM 1/2
-82
-80
QPSK 3/4
-84
-82
QPSK 1/2
-86
-84
BPSK 3/4
-88
-86
BPSK 1/2
-90
-88
Throughput (Mbps)
70
125
Non-overlapping Channels
2
Configuration and Management
WEB GUI
Navigating the GUI
SNMP
SNMP v1/v2
QoS
802.1P (Ethernet)
Diagnostic and Testing
Ethernet Loopback
No Loopback
Default
External Local Loopback
External loopback modes are used in conjunction with an externaltest source
External Remote Loopback
External loopback modes are used in conjunction with an externaltest source
Internal Loopback
Internal loopback uses an internal test source, and sends the test source signal across the link,
looped at the remote radio's interface, returned to the local radio,
and looped at the local radio's interface back to the source.
The inputs at both ends are looped back at the line level.
PING Remote Birdge
Protocol Stack
SNMP, HTTP, UDP, TCP, IP v4, DNS,
System (Continue)
Maximum RSL
-15 dBm error free
0 dBm no damage
Maximum Packet Size
1514 bytes
Data Security Packets Per Second
256-bit AES encryption
20,000+ packets/s
End to End Packet Latency
<1ms
Physical
Physical Configuration
Outdoor Unit (ODU)
Operation Temperature
-20 to +75 ℃; -4 to 167℉
Full Specification Temperature
-20 to +75 ℃
Environmental
NEMA 4/IP68
Humidity
100% condensing
Interface
Ethernet
RJ-45(F)
Speed
10/100BaseT (POE)
Duplex
Half, Full, Auto-MDIX
Compliance
802.3
DC Power
48VDC, <20W
Model
Frequency
MHz
Antenna
dBi
Output Power
dBm
Sensitivity
dBm
Dimension
mm
Weight
Kg
KWA-O1850-I
5,120-5,900
23 / N Jack
23 (200mW)
-90
335x 335x 81
2.9