KW7010 Series
產品介紹
KW7010 Series MESH Outdoor Bridge
900MHz / 2.4GHz / 5GHz
KW7010 Series is a high performance wireless MESH network equipment. The wireless node can self-configure, dispose the network, and the network failure can be repaired automatically so that the overall performance and the usability achieves the optimization.
This equipment makes use of advance algorithm to enhance the throughput and low time-out from the centre to the edge of the network. This equipment is not only the wireless MESH junction point, but also may simultaneously support the wireless hotspot covering. It will provide the wireless broadcast access and the high bandwidth audio frequency/data/video frequency service.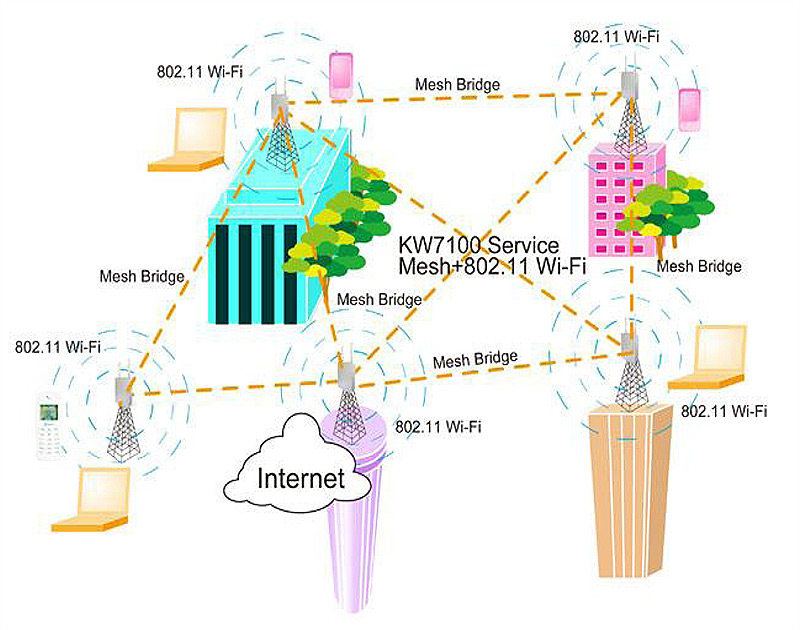 By connecting a KW7010 Series wireless Access Point to your wired network, users can enjoy wireless Internet access faster than ever before. Meanwhile, robust security ensures the Internet connection is protected.
Model
KWG-O7010
KWA-O7010
KWN-O7010
HARDWARE
Memory
16MB Flash + 32MB SDRAM
LAN
1 x 10/100BaseT RJ-45 with Auto-MDIX
Power Over Ethernet
Yes, 802.3af, w/ Lighting Protector
Yes, 802.3af, w/ Lighting Protector
Yes, 802.3af, w/ Lighting Protector
Default button
Yes
Yes
Yes
PHYSICAL
Antenna
1 N Connector
1 N Connector
1 N Connector
Frequency
2.4GHz
5GHz
900MHz (902-928MHz)
Enclosure
Metal Enclosure, IP68 verified
Maximum Output Power
21dBm @54Mbps
20dBm @54Mbps
20dBm @54Mbps
Sensitivity
54Mbps:≦-72dBm
54Mbps:≦-70dBm
54Mbps:≦-78dBm
Dimension
259 × 250 × 75 mm
259 × 250 × 75 mm
259 × 250 × 75 mm
Weight
1.8 Kg
2.8 Kg
2.0 Kg
ENVIRONMENT
Operating Temperature
-20 ~ 75C
-20 ~ 75C
-20 ~ 75C
Storage Temperature
-20 ~ 80C
-20 ~ 80C
-20 ~ 80C
Storage Humidity
5 ~ 95% RH
5 ~ 95% RH
5 ~ 95% RH
FEATURE
Operation Modes
AP / CPE / MESH
AP / CPE / MESH
AP / CPE / MESH
Link Test
Yes
Yes
Yes
MESH Diagnose
Yes
Yes
Yes
Channel Bandwidth
20 / 10 / 5 MHz
20 / 10 / 5 MHz
20 / 10 / 5 MHz
MESH Link Display
Yes
Yes
Yes
SECURITY
WPA / WPA2
Yes
Yes
Yes
WEP
Yes, 64/128
Yes, 64/128
Yes, 64/128
MANAGEMENT
Web Base Management
Yes
Yes
Yes
HTTP F/W Upgrade
Yes
Yes
Yes
SNMP
Yes, MIB 2
Yes, MIB 2
Yes, MIB 2
Windows Utility
Yes (Bridge Vision)
Yes (Bridge Vision)
Yes (Bridge Vision)