802.11n Access Point/Bridge - KW6030 Series
Home

/

802.11n Access Point/Bridge - KW6030 Series(KWG-6030)
Product Introduction
802.11n Access Point / Bridge With MIMO 300Mbps
KW6030 Series 2.4 / 5 GHz
Formosa KW6030 series wireless MIMO 802.11 access point / bridge provides reliable and predictable Wireless Bridge Connection or Wi-Fi Coverage.
With these wireless access points you can:
Augment throughput for high-bandwidth wireless applications
Protect your investment in wireless networking
Increase network reliability for high bandwidth applications
KW6030 Series Highlight Features:
KWA-6030, 5GHz 802.11a/n Access Point/Bridge
KWG-6030, 2.4GHz 802.11 g/n Access Point/Bridge
Data rates of 300 Mbps
Multiple input, multiple output technology for enhanced reliability
2.4 / 5GHz radio module
WiVIEW 2, Managed Tool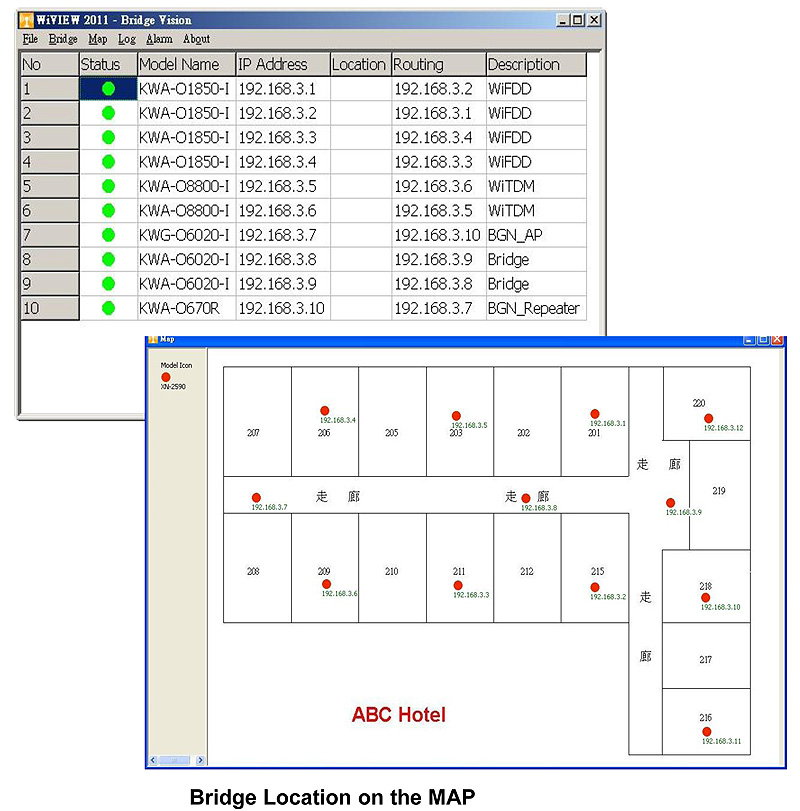 HARDWARE
Memory
16MB Flash + 64MB SDRAM
LAN
10/100BaseT RJ-45 with Auto-MDIX
Enclosure
Metal Enclosure
Default Button
Yes
LED
Power / LAN / RSSI
Ground
Yes
Power Requirements
DC 12V 1A
FEATURE
Operating Mode
AP, Client, Bridge, AP Repeater
Channel Bandwidth
20 / 40 MHz
Data Bandwidth Control
Yes
Output Power Management
Yes (dBm)
Max. Client Setting
Yes
NAT
Yes
VLAN
Yes, Up to 8 VAP
IGMP Snooping
Yes
HT Protection
Yes
Spanning Tree
Yes (802.1d)
RTS Threshold Setting
Yes (0-2,346)
Fragmentation Setting
Yes (256-2,346)
Beacon Interval Setting
Yes (20-1,000)
DTIM Interval Setting
Yes (1-255)
SECURITY
MAC Control
Yes
WEP Encryption
64, 128, 152-bit
WPA / WPA2
Yes
Wireless Isolation
Yes
Hidden SSID
Yes
Firewall
Yes
VPN
VPN Pass-through (IPsec, L2TP, PPTP)
MANAGEMENT
Managed AP Setting
Yes
Web Base Management
Yes
Console
Yes
SNMP
V1, V2C, V3
NTP Client
Yes
Support Log Server
Yes
Ping Watchdog
Yes
Site Survey
Yes (Scan Tool)
PHYSICAL
Operating Temperature
-20 ~ 70C
Operating Humidity
10 ~ 95% RH
Weight
0.5 Kg
Dimension
200mm * 145mm * 35mm
Model
KWA-6030
KWG-6030
RADIO
Wireless
OFDM
OFDM CCK
Frequency
5.1~5.9 GHz
2.41-2.48 GHz
Output Power
23dBm@6Mbps / 21dBm@54Mbps / 24dBm@HT20 / 21dBm@HT40
27dBm@11Mbps / 23dBm@54Mbps / 22 dBm@HT20, HT40
Sensitivity
-89dBm@6Mbps / -70dBm@54Mbps / -65dBm@HT20 / -62dBm@HT40
-85dBm@11Mbps / -70dBm@54Mbps / -65dBm@HT20 /-62dBm@HT40
Antenna
7 dBi / 2x2 RP-SMA Jack
5 dBi / 2x2 RP-SMA Jack
View another product from the links below or contact us for more information.