Wireless network backbone for cellular base station
Cellular phone is one of the most important necessities for modern civilization! It provides various of services addition to just voice communication. Due to the development of smart phones recently, mobile phones have become the best tool for personal communications. In signal path, cell phones need to send their signals to cellular base station and relay them back to the center of Telco company to communicate with the other users for voice or data upload/download service. Although we know there are wireless signals between mobile phones and base stations, but the network among base stations and Telco center are still wired.
It is reliable to send signal via wired system, but it costs higher and sometimes very difficult in setting them up. And when you need to invest more money to install more base stations in order to provide better service then users naturally will have to live with higher phone rates. If we want to replace the wired network among base stations to center office then we need to have following features:
Long range
High bandwidth
Low latency
And our WiFD2 is the best solution to the above requirements.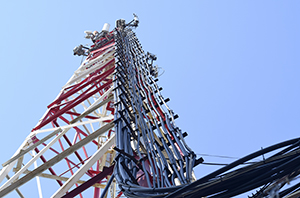 FWS KW-1000 series outdoor bridge using WiFD2 technology, transmit in FDD, with 2 independent frequencies for upload and download signals to ensure your radios are not waiting for the late or never-returning ACK and cause the delay of transmission. Further to that, we field tested our WiFD2 with 50Km between base stations and still get 100Mbps bandwidth. Having the reliable features of high bandwidth and long range our KW-1000 outdoor bridge is sure your best choice for wireless network backbone for your base stations
---
Related Applications