2 products in this product line
WiTDM outdoor Wireless Bridges (50Km+)
Build a wireless backhaul network with TDMA technology
The most common issue in building an outdoor hackhaul network is the hidden-node problem. The problem would happen if multi-signal were sent to a single wireless bridge at a time. The hidden-node problem would cause signal loss and low efficiency of wireless network.
The TDMA (Time-division multiple access) technology could solved this problem by applying outdoor wireless bridges by accessing signal with different time slots.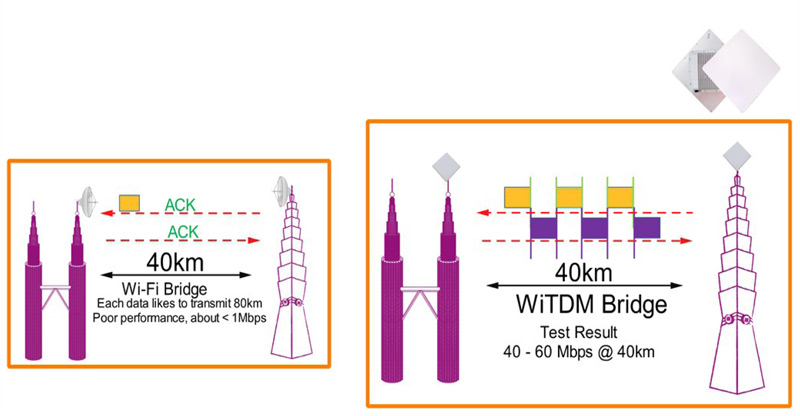 WiTDM outdoor wireless bridge products improve transmission rate
WiTDM is one kind of TDMA technology, and a transmission protocol suitable for outdoor equipments with Point to Point and Point to Multi-Point transmission in long distance. Being different from 802.11 CSMA/CA, the maximum transmission efficiency of WiTDM can be up to 200% of CSMA/CA 802.11.
The successful cases of WiTDM wireless backual network:
FWS helped Taiwanese government established a WiTDM link between control center at island of Taiwan and the monitoring/detecting equipments at the off-shore islands via WiTDM outdoor wireless bridge for earthquake data collection.
FWS constructed a 360-degree monitoring transferring wireless backaul network for sending real-time and high resolution images data back to the kilometers-far control center.
The other advantages:
Anti-Interference
IP68 Qualified / Reliable Outdoor Enclosure
Waterproof
Vent design
Good Balance on low Cost and High Performance
Actual reachable testing range > 50 km
High throughput
Ready for Next Generation Technology
High security (AES256)
Ease of Installation (Real time Link Test for Local and Remote RSSI)
Transmit Power Control
Bandwidth Control (40 / 20 / 10 / 5 MHz)
Wireless TDMA (TDD Mode)

KW8850 (60Mbps@40Km) / KW8800 (40Mbps@40Km)
Related Products