KW8800 P2P Outdoor Wireless Bridge
Home

/

KW8800 P2P Outdoor Wireless Bridge(KW8800)
Product Introduction
Long Distance, High Bandwidth
KW8800 Series
P2P

WiTDM® Outdoor Wireless Bridge

400MHz / 700~900MHz / 1.8~1.9GHz / 2.3~2.5GHz
2.7~2.9GHz / 3.5GHz / 4.4~4.9GHz / 4.9~6.1GHz

Formosa Wireless Broadband product line are adopting Wireless TDMA concept to provide an affordable and reliable rural connectivity. All of products are high-performance outdoor-deployable wireless bridge that provides wireless connectivity between multiple network locations. With the high throughput and long-distance transmission, it is the appropriate backhaul solution for Carriers, Service Providers and Enterprises.
Key Features & Benefits
Anti-Interference
IP68 Qualified / Reliable Outdoor Enclosure
Waterproof
Vent design
TDD QoS
Good Balance on low Cost and High Performance
Actual reachable testing range > 50 km
High throughput
Support point to point, CPE for point to multi point
Ready for Next Generation Technology
Software Features
High security (AES256)
Ease of Installation (Real time Link Test for Local and Remote RSSI)
Transmit Power Control
Bandwidth Control (40 / 20 / 10 / 5 MHz)
Wireless TDMA (TDD Mode)
VLAN Support

KW8850 (60Mbps@40Km) / KW8800 (40Mbps@40Km)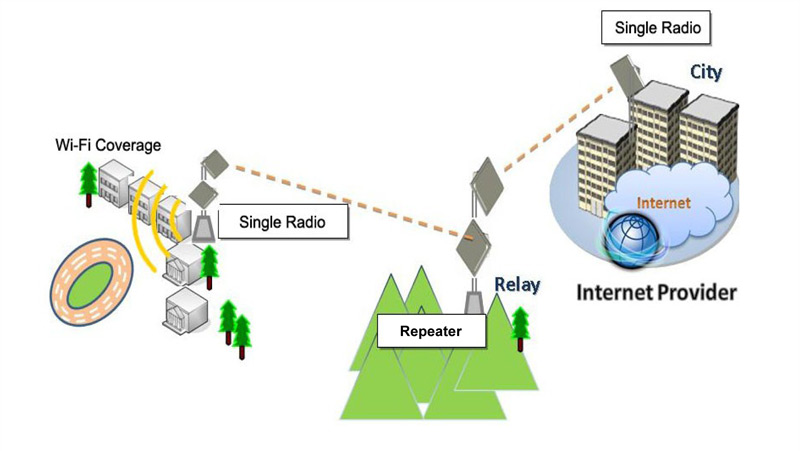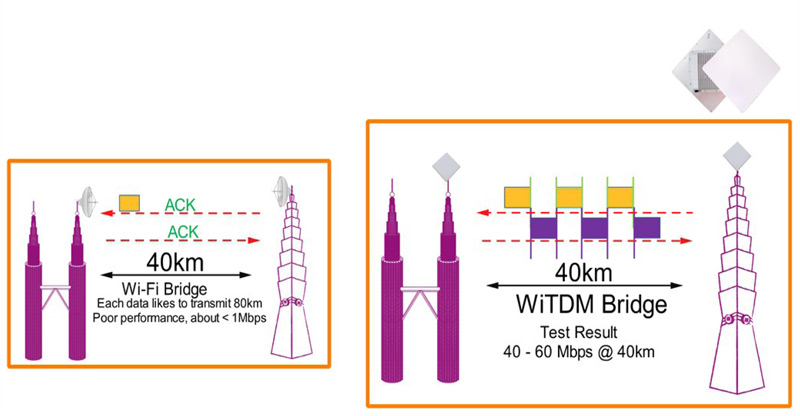 Performance Test Reference
Tested by KWA-O8800-I Outdoor Wireless Bridge
LOS
| Test1 | A | B | C |
| --- | --- | --- | --- |
| Distance (L.O.S) | 0.2KM | 30KM | 43KM |
| RSSI (dBm) | -29 | -69 | -73 |
| Throughput | 43.9 Mbps | 40 Mbps | 43 Mbps |
| Test Location | Taiwan HsinChu | Taiwan MiaoLi | China Jiangsu |
NLOS
Test2
D
E
F
G
Distance (L.O.S)
1.22KM
(None L.O.S)
1.5KM
(Near L.O.S)
8KM
(Near L.O.S)
38KM
(Near L.O.S)
RSSI (dBm)
-69
-67
-59
-74
Throughput
26.6 Mbps
38.6 Mbps
37 Mbps
30 Mbps
Test Location
Taiwan HsinChu
Taiwan Taipei
Taiwan HsinChu
TAiwan MiaoLi
WiVIEW 2, Managed Tool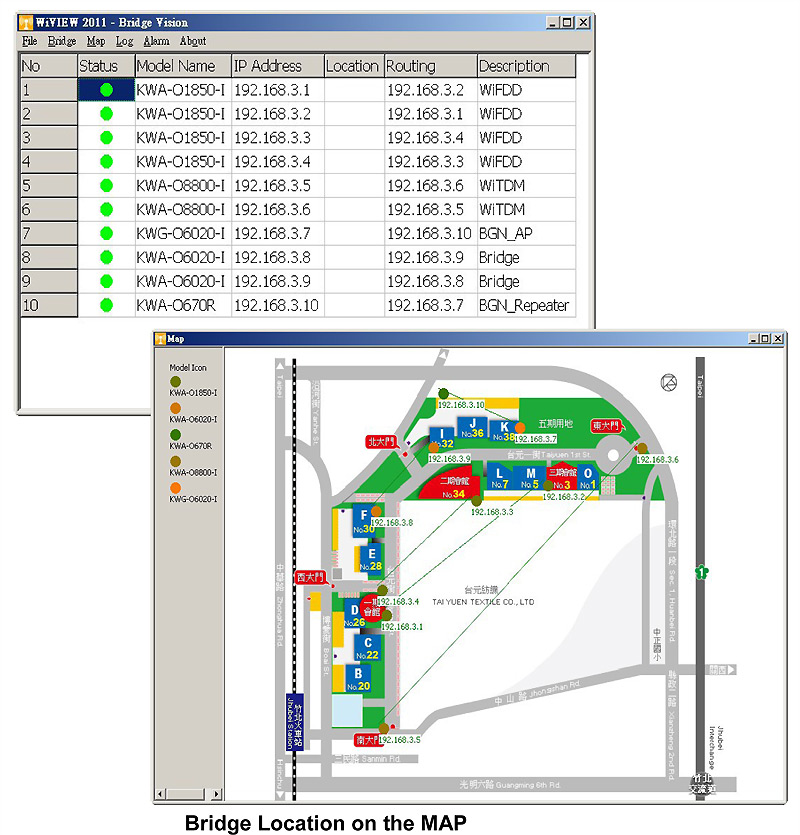 HARDWARE
Memory
16MB Flash + 32MB SDRAM
LAN
1 x 10/100BaseT RJ-45 with Auto-MDIX
Power Over Ethernet (PoE)
Yes (802.3at)
Default Button
Yes
Enclosure
Metal Case, IP 68 Verified
Lighting Protect
From Ethernet
FEATURE
Operating Mode
Bridge (PTP) / P2MP CPE
Link Test Tool
Yes (Real Time Local and Remote RSSI)
Radio Bandwidth
5 / 10 / 20 / 40 Mbps
TDMA
Yes
TDM Coordination
Yes
QoS
TDD / 802.1P
Channel Selection
Yes
Auto Channel
Yes
DFS/TPC
Yes
Spanning Tree (STP)
Yes
VLAN
Yes (802.1Q)
NetBIOS Name
Yes
Space In Meters
Yes (Auto)
NTP Client
Yes
CLI
Yes (SSH)
Backup / Restore
Yes
System Log
Yes
Remote Log Server
Yes
SECURITY
Encryption
AES 256bit
MANAGEMENT
Web Base Management
Yes
SNMP V.2
Private MIB, 802.11 MIB
Windows Tool
Yes, WiVIEW 2
PHYSICAL
Operating Temperature
-30 ~ 80C
Operating Humidity
10 ~ 95% RH
Model
Frequency
MHz
Antenna
dBi
Output Power
dBm
Sensitivity
dBm
Dimension
mm
Weight
Kg
KW04-O8800
420-450
N Jack
27
-93
259 x 250 x 75
1.8
KWM-O8801
763-778
N Jack
28
-92
259 x 250 x 75
1.8
KWM-O8801-I
763-778
9
28
-92
410 x 410 x 85
3.0
KWN-O8800
903-928
N Jack
23
-92
259 x 250 x 75
1.8
KWN-O8800-I
903-928
12
23
-92
410 x 410 x 85
3.0
KW19-O8800
1,850-1,915
N Jack
30
-95
259 x 250 x 75
1.8
KWF-O8800
2,312-2,392
N Jack
23
-92
259 x 250 x 75
1.8
KWF-O8800-I
2,312-2,392
19
23
-92
330 x 300 x 81
2.9
KWF-O8801
2,312-2,472
N Jack
23
-92
259 x 250 x 75
1.8
KWF-O8801-I
2,312-2,472
19
23
-92
330 x 300 x 81
2.9
KWG-O8850
2,412-2,472
N Jack
23
-92
259 x 250 x 75
1.8
KWG-O8850-I
2,412-2,472
19
23
-92
330x 300x 81
2.9
KWG-O8800
2,412-2,472
N Jack
23
-92
259 x 250 x 75
1.8
KWG-O8800-I
2,412-2,472
19
23
-92
335 x 335 x 81
2.9
KWQ-O8800
3,400-3,700
N Jack
23
-90
259 x 250 x 75
1.8
KWQ-O8800-I
3,400-3,700
18
23
-90
330 x 300 x 81
2.9
KWQ-O8801
3,650-3,710
N Jack
22
-90
259 x 250 x 75
1.8
KWQ-O8801-I
3,650-3,710
18
22
-90
330 x 300 x 81
2.9
KWR-O8850
4,400 ~ 4,900
N Jack
20
-92
259 x 250 x 75
1.8
KWR-O8850-I
4,400 ~ 4,900
21
20
-92
335 x 335 x 81
2.9
KWA-O8850
5,120-6,060
N Jack
25
-90
259 x 250 x 75
1.8
KWA-O8850-I
5,120-6,060
23
25
-90
335 x 335 x 81
2.9
KWR-O8800
4,400 ~ 4,900
N Jack
20
-92
259 x 250 x 75
1.8
KWR-O8800-I
4,400 ~ 4,900
21
20
-92
335 x 335 x 81
2.9
KWA-O8800
5,120-6,060
N Jack
25
-90
259 x 250 x 75
1.8
KWA-O8800-I
5,120-6,060
23
25
-90
335 x 335 x 81
2.9
KWA-O8801
4,920-5,100
N Jack
18
-92
259 x 250 x 75
1.8
KWA-O8801-I
4,920-5,100
23
18
-92
335 x 335 x 81
2.9
KWA-O8802
5,900-6,060
N Jack
23
-92
259 x 250 x 75
1.8
KWA-O8802-I
5,900-6,060
23
23
-92
335 x 335 x 81
2.9
KWA-O8800-I
KWA-O8801-I
KWA-O8802-I
KWA-O8850-I
KWR-O8850-I
KWR-O8800-I

KWG-O8800-I
KWG-O8850-I
KWN-O8800-I
KWF-O8800-I
KWF-O8801-I
KWQ-O8801-I
KWL-O8801-I

KW04-8800
KWM-O8801
KWN-O8800
KWF-O8800
KWH-O8800
KWQ-O8801
KWR-O8800
KWR-O8850
KW19-8800
KWA-O8800
KWA-O8801
KWA-O8802
KWA-O8850
KWG-O8800
KWG-O8850
KWL-O8801